As a brand, Danelectro has always been a cult favorite amongst musicians who today, can enjoy modern adaptations of original, classic Dano guitars. Guitars that replicate so many inspirational guitar lines from a company that dates back to the 1950's, when Sears approached Nathan Daniel to make an affordable electric guitar.
The rest as they say….really is 'history' and Nat's original hollow bodied guitars constructed with Masonite board, were unquestionably a major contribution to the birth of rock and roll.
Far from resting on their laurels, Danelectro have continued to listen to what players really want from guitars, pickups, amps and effects. The Eisenhower Fuzz and The Breakdown Gain/Boost, are from a new line of vintage inspired stand-alone pedals that follow the highly successful Billionaire Series released during 2018.
Unlike the Billionaires, with their clean modern look, the Eisenhower Fuzz and The Breakdown, look like they've been on a pedalboard since the late 60's. The aged cases and controls have a road worn, heavily smoke stained look (why was the extractor fan always behind the stage back then?), effortlessly delivering memorable guitar sounds from that period, whilst also remaining a total inspiration for younger players.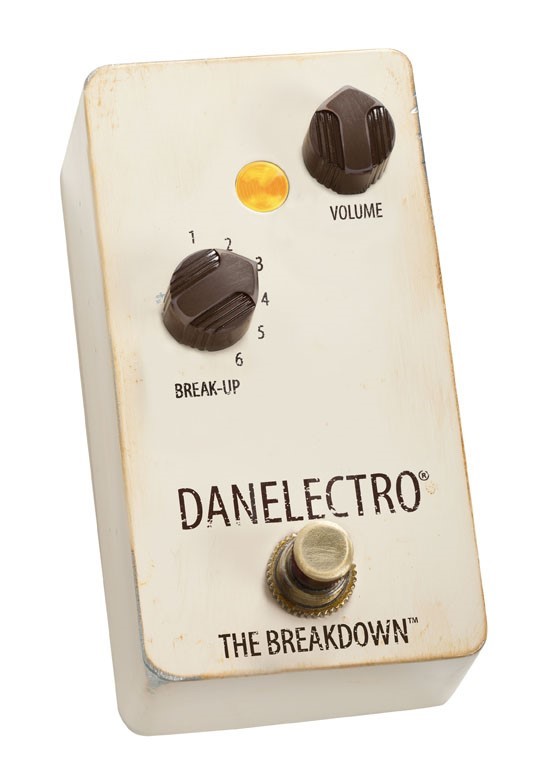 The Breakdown
Aerosmith's Joe Perry is a Dano fan owning several guitars and is one of many high profile rock players who are now adding these new vintage inspired pedals to their boards.
Joe's choice right now is The Breakdown, an extremely effective gain/boost pedal. Whilst some multi effect pedals are awash with controls and switches and often red LD's (which can be hard to read under low stage lighting), The Breakdown has a large status orange LED and a simple off-set, two control layout. It's like this pedal is shouting up at you, 'hey bro' this is all you need', I'll do the rest'.
Whist the Volume control speaks for itself, it's also a master for the six position Break Up rotary control which ups the output from subtle to mild grit from positions 1-3 and really let's go from 4-6, pushing the amp's front end with high output akin to towering stacks at full tilt, without coloring the tone of the guitar. There's no need to close your eyes and bring to mind rock's yesteryears, The Breakdown instantly delivers memorable, unprocessed, organic, analogue guitar sounds heard on famous rock albums from the late 60's and early 70's.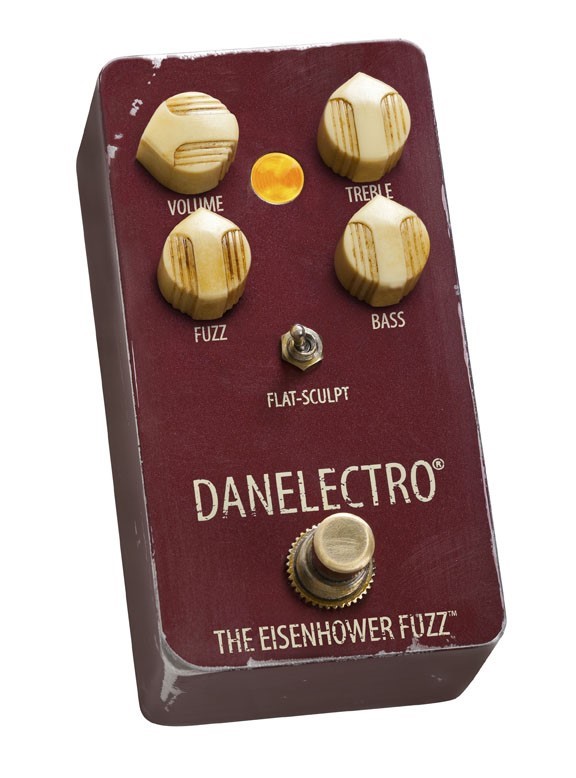 Eisenhower Fuzz
The Eisenhower Fuzz, is based on one of the greatest octave fuzz pedals ever built, but now with amped up gain and simple Volume, Fuzz, Bass and Treble controls, with a dynamic range that extends from a mild juicy crunch, subtle grind, to over-the-top compressed 'splatty fuzz'. But The Eisenhower is not just an awesome, big sounding fuzz pedal with a massive boost, there's an analogue thing happening here with overtones of ring modulation mixed with the on-board upper octave circuitry.
Like The Breakdown, Eisenhower has silent switching, true bypass and a large status LED. Controls are again kept to a minimum and with just a 2 band EQ, Eisenhower's tonal range is massive, from fluidy-smooth neck pickup sonics to razor sharp, edgy bridge delivery.
That upper octave effect is so apparent on long sustaining chords and 'held' solo notes….a revelation in itself. This pedal sounds like a wall of angry amps through clean or overdriven amp channels at any volume. It's hard to resist leaning back pointing to the sky as that long bend is blessed with that top octave, sure, make it look like you did it all yourself.
Guitar players who are brave enough to play Parisienne Walkways Gary Moore style, often struggle with that iconic 30 second solo note feedback mid-song. During sound checks Gary Moore would mark the floor so he knew exactly where to stand for that 2nd string bend on the 15th fret, and of course, a few zillion watts of power certainly helped.
Older guitar players will recall thigh tightening moments back in the 60's, standing on tip-toe willfully hoping guitar and amp would feedback as they attempted the intro to Foxy Lady in small clubs with volume issues. Jimi made it look so easy, how did he do it without the Eisenhower? He did of course have pedals of a similar design, but again with a ton of watts. Eisenhower has endless sustain and instant smile'ability when it slaps on that top octave.
And Metal players will adore the Flat-Sculpt mini-toggle switch which scoops out all the mids and boosts the low end lower than a snake's belly, superb for fat, metal enforced rhythms.
Eisenhower and The Breakdown are both winners from whichever angle you approach them, from the cool aesthetics to mountains of useable overdrive and fuzz that sound so good, even with the guitar's volume backed off a tad, and a tad more. From the first chord there's an inspiration to learn new riffs, play old ones better and write new songs.
Useful links:
www.instagram.com/danelectro_official/
www.facebook.com/danelectro.official